This is by all means not an exclusive list of Vietnamese foods to try when you're in Saigon, that would probably fill a library full of books! Rather, this is more a list of dishes I really enjoyed eating and trying during my Saigon free day tours, and I think it's a start, or a beginning, to exploring delicious things to eat in the city.
1.Bánh mì
If you're even the slightest bit into Vietnamese food, you've probably eaten numerous banh mi sandwiches.
Along with pho, easily the most exported Vietnamese specialty is banh mi – Vietnamese personal baguette sandwich.
Walking around Saigon with Saigon free day tours, you'll see dozens of carts with signs selling banh mi – it's actually hard to go more than one block without seeing one – so it's never hard to find.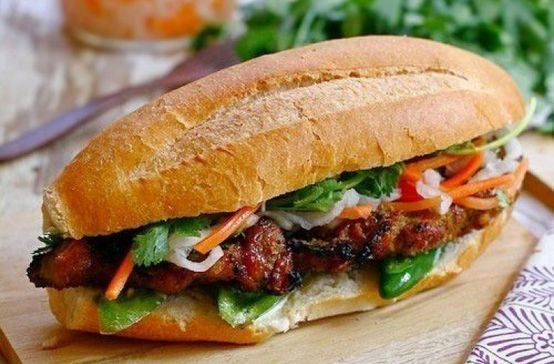 There are many different varieties of banh mi, but the basic sandwich starts with a crusty baguette that's sliced in half (sometimes using a scissors) and stuffed with layers of pork, luncheon meats, shredded cured pork skin, pâté, mayonnaise, Vietnamese radish and carrot pickles, a handful of sliced cucumbers, sprigs of coriander (cilantro), and last but not least, an optional, yet in my opinion necessary, scoop of fresh pounded chilies.The sum of these ingredients together is what really makes banh mi such a glorious sandwich.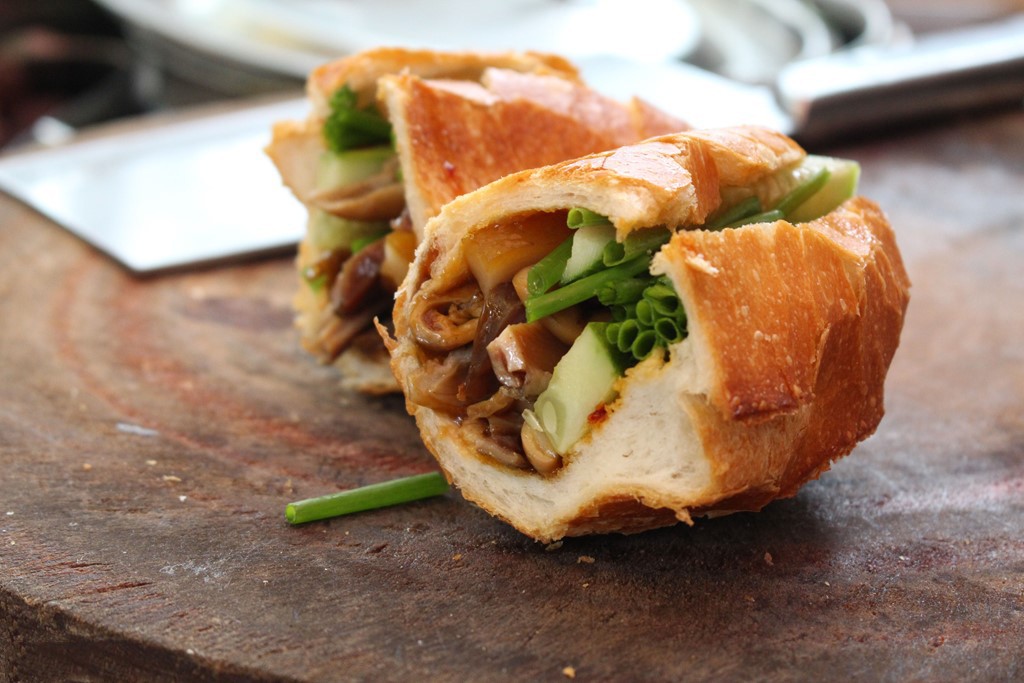 2.Bún riêu
Vietnam is a land of noodle soups, and many enjoy at least one bowl of noodles a day, some, maybe even a few.
The broth is made from a crab base stock, and another key ingredient is tomatoes, which create a broth that's slightly seafood tasting, yet has a beautiful natural sweetness and tartness from the tomatoes. There's also often some rice vinegar included in the recipe to give it a lovely sour and well-rounded flavor.
Along with the wonderfully flavorful broth in a bowl of bun rieu, the noodles are often similar in shape and size to spaghetti noodles, except soft rice noodles.
Topping the noodles are pieces of golden fried tofu, sometimes meatballs, hearty chunks of pork, squares of congealed pig's blood, and finally a slab of rich crab paste.
To eat bun rieu, you normally garnish it with shrimp paste or crab paste, then load it up with chili sauce, a squeeze of lime juice, and then devour it with a small mountain of herbs and shredded vegetables.
3. Hủ tiếu Nam Vang
Yet another dish, that has a huge following of Vietnamese cuisine lovers, is Hu tieu Nam Vang.
Nam Vang is the Vietnamese word for Phnom Penh in Cambodia, and Hủ Tieu has connections to Teochew in China.
So what does that have to do with this Vietnamese favorite food?
Hủ Tieu Nam Vang is a Cambodian and Chinese pork based noodle soup, that contains slices of all sorts of organs, and a shrimp or few, plus an assortment of other additions.
4. Bánh xèo
Sort of like a crepe, a Vietnamese banh xeo is a crispy savory snack that's a favorite for many.
Just like banh mi sandwiches, banh xeo is a bit of a French inspired Vietnamese culture creation.
A thin layer of batter is fried in a lot of oil and then combined with your choice of ingredients, often including slices of pork belly, shrimp, and onions, then folded over with a handful of lightly cooked bean sprouts in the middle.
You can really eat banh xeo however you want, but the common method is to take a few leaves of lettuce or mustard leaves, load in a piece of the golden crispy crepe, top it with some more herbs like sweet basil and perilla leaves, add some chili, roll it up like a green spring roll, and then dip the entire treat into the sweet Vietnamese fish sauce dressing.
Banh xeo in the south of Vietnam is usually larger in size, almost approaching south Indian dosa status, while in other parts of Vietnam they are usually smaller.
5. Bột chiên
Bot chien is basically fried rice cakes. The rice cakes are made from rice flour and tapioca starch.
The cakes are sliced into bite sized pieces, and then fried, normally on a hot skillet in lots of lard, along with some light seasonings, until crispy and golden brown on the edges. Once cooked, the rice cakes are topped with an egg and a handful of green onions before being served.
The result of bot chien is little bite sized nuggets of crispy sticky rice flour, enriched with egg, and with a nice smoky flavor.
It's not the healthiest Vietnamese delicacy, that's for sure, but it sure is tasty once in a while.
6. Cơm tấm
So let's move onto a few of the famous and most beloved Vietnamese rice-based dishes with Saigon free day tours.
Known as a southern favorite, Com tam is the combination of rice (which is often broken rice, which is partially broken grains of rice that occur in the milling process), topped with a grilled pork chop.
The most basic version is known as cơm tấm sườn nướng, the broken rice and a thin grilled pork chop, served on a plate and accompanied by fish sauce dressing, cucumber pickles, green onion oil, and chilies to garnish.
Starting from the most basic version of com tam suon nuong, you can then upgrade with all sorts of marvelous extra things like a fried egg, Vietnamese meatloaf, pigskin, extra pork, more sausage… the list goes on.
Com tam suon nuong is available all over in Saigon, especially at small street food stalls and markets throughout the city.
7. Hột vịt lộn
Half-hatched eggs are basically fertilized duck eggs (a.k.a. fetal duck eggs) that are 16 to 20 days of age. The older it is, the larger the chick and the more pronounced its feathers, bones, and beak. An embryo at 17 days has beak and feathers which are more developed at 20 days.
Hot vit lon is full of nutrition (each has about 190 calories and offers 14 grams of protein and tons of B-carotene, calcium…) so in circumstances where the protein is in limited supply, it's quite a godsend.
To eat half-hatched eggs, you tap on the eggshell with a spoon and then break the membrane underneath to sip at the flavorful liquid, which was broth like and then the solid stuff, which basically was the embryo.
References: migrationology.com
If you concern about Saigon Free Day Tours, please contact us for more information. Share this article if it is helpful for you.