By Mystic  
Hi,  Saigon Free Day Tours is back with more interesting information just for you . This time I'll tell you about a must-see type of art when you come to Vietnam, it's traditional water puppetry.
History
Dates back as far as almost 10 centuries ago, as it was originated in a village of the Red River Delta in the North of Vietnam. And soon after, it has spread throughout the whole country and quickly became a traditional form of art. And in 2012 , it was recognized as the National Cultural Intangible Heritage of Vietnam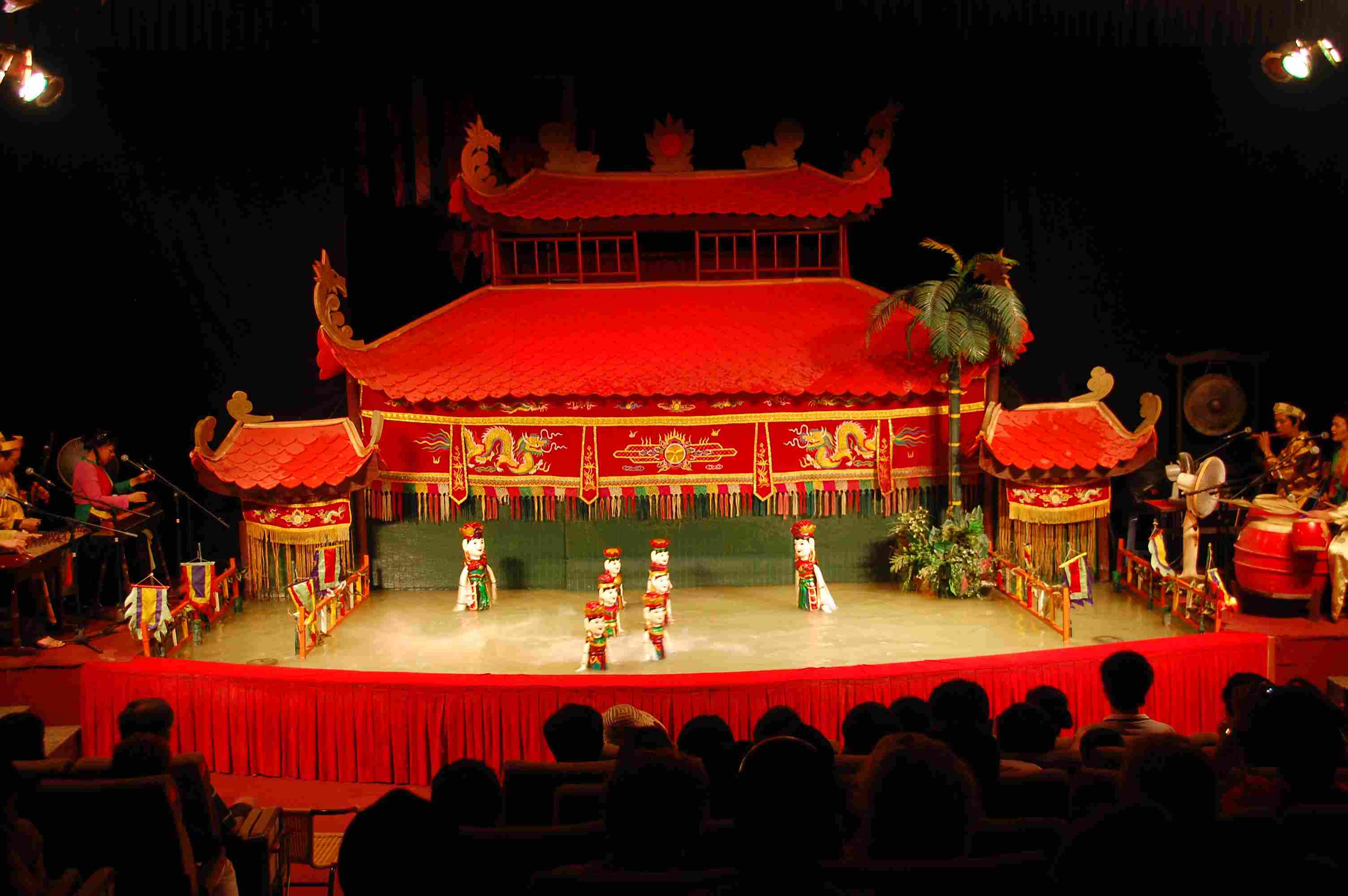 Cultural Specificity
The puppets are made specially for performing on water. They are made out fig tree wood ( a light and enable to float on water type of wood ) and then lacquered for better preserving. Bamboo rods are attached to the puppets so that the pupeters can control them from behind the curtain.
The shows are performed in a waist-deep pool, the original idea of this kind of stage is from the past , when the rice fields would flood and the farmers would use this form of puppet play to entertain themselves
The water puppet shows are usually performed in festivals , especially on Lunar New Year and in the past, it's harvest season . So the content of the water puppet shows are about life of farmers and Vietnamese people in the past, about some of the traditions and folk stories of Vietnam along with special light and sound effects of Vietnamese traditional form of art performance, which comes from the ancient musical instrument of Vietnam includes vocals, drums , wooden bells , bamboo flutes,….etc
Where to go
In HCMC, you can enjoy the show at The Golden Dragon Water Puppet Theater (55B Nguyen Thi Minh Khai Street, Ben Thanh Ward, District 1, Ho Chi Minh City).
Interesting ? Well then there is a good news for you, a cuisine restaurant in a the central of Saigon provides not only Northen Vietnam dishes but also puppet shows on the second floor which is getting many good reviews – Dau Homemade Restaurant
The link for the Dau Homemade Restaurant (address, telephone and review included): https://www.tripadvisor.com.vn/Restaurant_Review-g293925-d13943407-Reviews-Dau_Homemade-Ho_Chi_Minh_City.html
Bun Dau Homemade has shows weekly at 8PM on Wednesday and Sunday
If you concern about Saigon Free Day Tours, please contact us for more information. Share this article if it is helpful for your trip in Saigon.